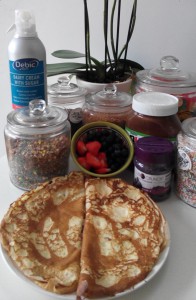 Lizzy's Pancakes & Toppings make you feel you're in heaven!
Lizzy's vers bereide pannenkoeken kan je pimpen met tal van toppings. Denk hierbij aan aardbeien, slagroom, M&M's, chocoladesaus en banaan of cuberdoncrunch… Het zijn slechts enkele lekkernijen vanuit het ruime assortiment.
Liever toch de vertrouwde pannenkoek met suiker, een goeie siroop, nutella of jam? Alles Kan!